Accessory Dwelling Units
Passage of recent California Housing laws have loosen many of the restrictions that once made it costly and often prohibitive for home owners to build accessory dwelling units, a.k.a. "Backyard Granny Flats". New laws now allow for all Building Depts. Statewide to offer a streamline permitting process, which has reduced administrative approvals to mere hours as oppose to weeks/months, and in turn reduced direct build time/cost as well.
A few benefits to building an ADU/JADU
Independent living space for family member or close friend in need of housing

Rental income to offset mortgage costs

Investment in future property value increase

Provide housing for local labor force

Reduce homelessness in your community
So if you've been considering building your dream ADU/JADU and have held off, now's a great time to give us a call, we've got straight answers and great advice on steps that you can take to start now.
In-house design team

Talented and experienced sub-contractors(electricians, plumbers/carpenters etc...)

Well stock local supplier network
Our Team of Architects/Designers, local suppliers, and talented sub contractors are ready to help you build your ADU/JADU dream unit!
Jr. Accessory Dwelling Units
JADU's are a new form of ADU (Accessory Dwelling Unit) with a slight twist.
In May 2016, the California State Assembly unanimously passed AB-2406, the Bill then also unanimously passed in the Senate in August 2016, being signed and immediately enacted into law by Governor Jerry Brown in September 2016. The Bill amends the current Government Code Section 65852.22. The Planning and Zoning Law authorizes a local agency to provide by ordinance for the creation of 2nd units in single-family and multifamily residential areas with a few notable limits and restrictions.
Of the few, are limits on the size of space (500 sq.ft. max.), allowance for small prep kitchen with restrictions prohibiting the use of gas or propane fired ovens or stove tops. Other important notable restrictions include limits on the size of the optional kitchen sink (16" x 16" max.) and sink DWV (1-1/2" max.), requirements for exterior door access, bathroom access etc. One of the more highly favorable restrictions prohibits the requirement to provide additional parking and separate water & electric services for the units, an aspect of the law which should help ease and speed-up the development process. Also, the requirement to file building permits may be considered on a case-by-case basis. We recommend that you consult with your local building department for specific ordinances and restrictions.
As an example, let's say you're an empty-nester looking for ways to make a little extra income month-to-month. Well, that spare guest bedroom with a standard 2' x 6' built-in closet is your potential gold mine just waiting to be discovered. Now let's also say that you have a limited budget to work with (Note: Traditional Accessory Dwelling Units (ADU) are considerably more expensive to build-out due to them being stand-alone structures that typically require poured foundations, plumbing & electrical services connections to utilities, as well as separate parking in most cases.), one of the best aspects to take into consideration is how relatively inexpensive the build-out cost is for a typical JADU in comparison to an ADU.
By simply adding a separate door entrance to the outside, converting the closet into a mini kitchenette with nice cabinets, small quartz counter-top, mini refrigerator, laminate or ceramic tile flooring, pop-in a 16" x 16" sink with gooseneck faucet, and Voilà! you've got yourself a really nice rental unit ready to put on the market. Now you're not only helping yourself make some extra income, you're also helping to meet the needs for more available affordable housing in your community, a real win-win!.
In an effort to mitigate the crushing shortage of affordable rental housing stock in urban and suburban markets, and aid some eligible homeowners (often elderly or retirees) with limited incomes, this Bill was well crafted and designed to address both issues with a very practical and highly effective solution that takes into consideration how in most cases, unused conditioned spaces within average size residential homes owned by empty-nesters, widowers, and divorcees can easily be converted into sub-rental stock with minimal upfront cost, of which can be quickly recovered through market rate rents.
The demand for affordable housing is rapidly outpacing the efforts to create adequate living space, however, the Great State of California, along with fully committed contractors like Green Giant Construction are making real meaningful strides to change all of that.
If you're a homeowner with some extra unused space and would like a consultation on how the new law may be of direct benefit to you, then contact us and we'll be happy to schedule some time to go over all of the options. What do you have to lose?
CLICK HERE TO VIEW AB-2406 BILL TEXT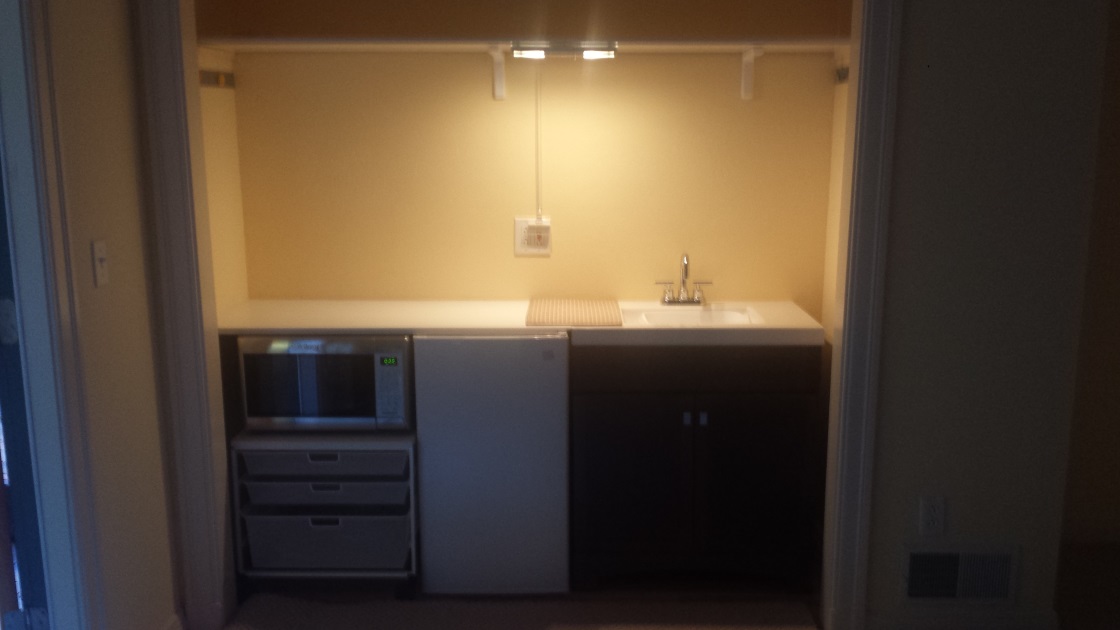 (Master bedroom JADU conversion with small kitchenette built inside of an existing closet in Larkspur CA.)